"Bioscience International was proud to play a part with the Public Health Research Institute (PHRI) in establishing laboratories to help reduce TB in Russian prisons."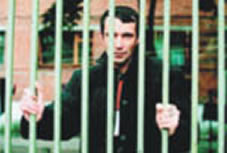 World on guard against airborne transmission of disease
SAS Used In Crusade Against TB
From Bioscience World, Autumn 2001
Bioaerosol sampling with the SAS air sampler verifies possible airborne transmission during epidemiological investigations and evaluates engineering controls. Tuberculosis (TB), caused by Mycobacterium tuberculosis, spreads when a person with active TB of the lungs or throat coughs, laughs or sneezes. This bacterium penetrates the lungs and disperses through the bloodstream or organs, such as kidney, brain and spine.
Typically, a person infected with the TB bacteria fights off infections and the bacteria become inactive. These bacteria become activated when the immune system weakens as with HIV patients. For information on monitoring Mycobacterium tuberculosis contact Bioscience International for Application Note 99/11.

For More Information Contact:

Bioscience International
11333 Woodglen Drive
Rockville MD 20852
Tel: 301-231-7400
Fax: 301-231-7277
Internet: BioInfo@Biosci-Intl.com