The World Leader in Microbial Air Samplers & Other Best in Class Environmental Sampling Products...
NIST-traceable, ISO 17025:2017-accredited calibrations are available for all products we sell. If you have any questions or would like to place a purchase order, please call us at: (301)231-7400, or e-mail at: BioInfo@Biosci-Intl.com.

SAS (Surface Air System) Air Samplers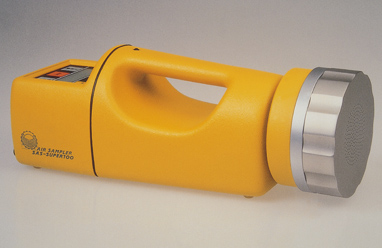 The world's #1 best-selling air sampler line is best in class & fully compliant with all relevant national and international standards for environmental air monitoring - including those set by: ISO 14698-1, EU GLP-GMP, EN45001, ACGIH, USP 1116, and USP 797. The heads allow 100% sampling efficiency down to 1 micron, & the air samplers are so durable that 99% of the SAS units sold since 1979 in North America are still in use today. They work with all standard 55mm contact plates & 90mm petri dishes, so you aren't locked in to using proprietary media. Pre-sterilized disposable, as well as autoclavable AISI 316 stainless steel, heads available.

The established standard in microbial air sampling & air quality testing, sampling up to 100 & 180 liters per minute, respectively. (Note that air sampling of 180 liters per minute is the fastest rate available on the market that is still fully validated as safe & effective for the collection & growth of microorganisms.)
Similar features as the SAS 180 high volume air sampler, but with dual heads each sampling 180 liters per minute for a total of 360 liters per minute. This is the best air sampler on the market for sampling with two media types simultaneously, such as tryptic soy agar (TSA) for detection of bacteria & malt extract agar (MEA) for detection of environmental yeasts, molds, & fungi. The SAS Duo 360 air sampler is also ideal for low microbial contamination environments where higher volume air sampling is desired. By using two heads, air sampling volume is doubled without resorting to unsafe single-head speeds that could damage the microbes you are trying to test for.
SAS 100 or 180 (high volume air sampler) model with detached head, designed for sampling air in isolators while enabling the operator and control unit to remain outside the controlled area.
Air sampling system for compressed air; collects more than 1000 liters of air/gas in just a few minutes.
Accessories
Sterile, disposable sampling heads that eliminate the need for autoclaving between samples.
An innovative collection of sampling tools designed for a wide variety of needs in food, dairy, pharmaceutical, and cosmetic applications.
Other accessories

Contact us to discuss which accessories would be right for your particular environment.